« back to Movies
The Watch
Release Date: July 27, 2012
Genres: Comedy, SciFi/Fantasy
Cast: Ben Stiller, Vince Vaughn, Jonah Hill, Richard Ayoade, Rosemarie DeWitt
Directors: Akiva Schaffer
Official Site: http://www.facebook.com/thewatchmovie
Distributor: 20th Century Fox
Four everyday suburban guys come together to form a neighborhood watch group, but only as an excuse to escape their humdrum lives, one night a week. When they accidentally discover that their town has become overrun with aliens posing as ordinary suburbanites, they have no choice but to save their neighborhood -- and the world -- from total extermination.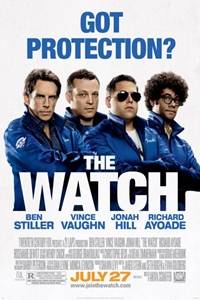 Show Times / Buy Tickets
There are no current showings for The Watch in this area.