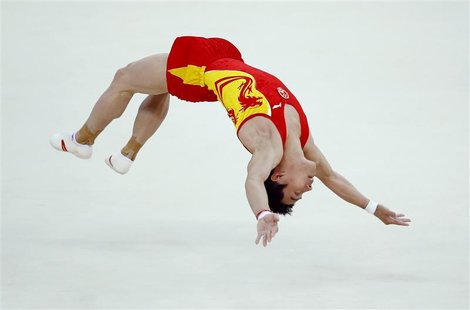 By Pritha Sarkar
LONDON (Reuters) - A jubilant Zou Kai gave the crowd a thumbs up and kissed his gold medal over and over again after he won his Olympic floor exercise showdown with Japan's all-around champion Kohei Uchimura on Sunday.
Zou's gravity-defying tumbles and balancing strength maneuvers allowed him to become only the second man, after the Soviet Union's Nikolai Andrianov in the 1970s, to win successive Games titles on the apparatus with a score of 15.933.
Uchimura had the same 15.800 score as Russia's Denis Ablyazin but was awarded the silver on the tiebreak rule, which takes into account the execution score awarded. Uchimura's exhibition of powerful tumbling and elegant execution earned him an E score of 9.100 while Ablyazin posted 8.700.
The result meant Uchimura will leave London with one gold and two silvers as he did not qualify for any other apparatus final.
Ablyazin, who scraped into the final thanks to the tiebreak rule after three gymnasts finished with the same score in qualifying, leapt into the arms of his coach when he realized he had secured the bronze.
Zou, the second of eight finalists to compete, appeared to tiptoe on to the square mat but once he opened his routine with a rock solid landing following two full twisting combinations, there was no stopping him.
After finishing off his 70-second display with a flourish, he saluted the crowd before running down the steps to exchange high fives with his beaming coach.
It was the second gold medal for China at these Games while Zou took his personal Olympic haul to five golds, having picked up three in Beijing four years ago.
He celebrated the achievement by unfurling a banner highlighting the "five golds" in Mandarin. A new banner could be unveiled on Tuesday when Zou will also be looking to defend his horizontal bar final.
(Editing by Alison Williams)