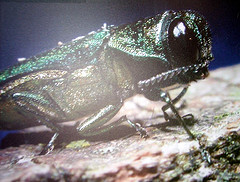 WALWORTH COUNTY, WI (WTAQ) - The tree-killing emerald ash borer has been found in three new locations in Walworth County.
State agriculture officials said Friday that a second group of infected trees was found in Lake Geneva, about a mile from the first discovery. Also, adult ash borers were found in traps planted at Big Foot Beach State Park.
An infested tree was confirmed on the border of Williams Bay and the Walworth County town of Linn.
State workers set up the traps earlier this year, and officials say the surveying program is starting to wrap up for the season.
Mick Skwarok of the ag department says the threat of new emerald ash borers continues. He says Wisconsin continues to have a problem with people cutting up ash trees for firewood, and moving them around.
The emerald borer has now been confirmed in a dozen counties – with the biggest concentrations remaining south of La Crosse, and north of Milwaukee.