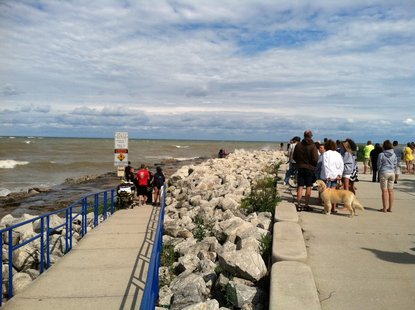 SHEBOYGAN, WI (WTAQ) - The search and rescue for two Sheboygan men who were swept out into Lake Michigan Friday afternoon is being suspended until Saturday morning.
Authorities say weather conditions are postponing the search until 8 a.m.
Sheboygan Police responded to a report of three individuals who had been swept into the water off the North Pier breakwall in Sheboygan around 3:30 Friday afternoon.
Sheboygan Police says they are searching for two males, 21 and 37-years-old. A woman tried to save the men but was swept in. Crews were able to initially save her from the water. All three are from Sheboygan.
Waves on Lake Michigan were high Friday afternoon, making rescue efforts more difficult.
A witness tells WHBL news the group was fishing on the breakwater when they dropped some fishing equipment and reportedly tried to retrieve it.