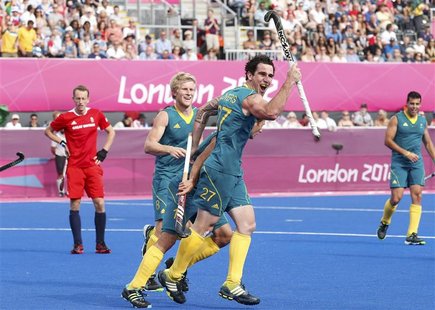 By Annika Breidthardt
LONDON (Reuters) - Jamie Dwyer inspired Australia to a 3-1 win over Britain and a bronze medal on Saturday, giving the Aussies their sixth consecutive Olympic medal.
Australia, touted before the tournament as favorites to win gold, shrugged off the disappointment of losing their semi-final to Germany in just the last 15 minutes on Thursday.
That narrow defeat contrasted with Britain, who suffered a 9-2 drubbing by the Netherlands in their semi-final and the hosts could not rediscover the fighting spirit which earned them a 3-3 draw with Australia in the group stage.
"We were just as devastated as the Brits were after their semi-final and I'm very proud of our team of how we responded today. That's a real test of character," Mark Knowles, who won gold in Athens in 2004 and bronze in Beijing, told reporters.
"You come to the Olympics, you want to win a medal, you want gold. If you don't get to play for gold, this is the only one you can get."
Australia hold the two other major hockey titles, world champions and champions trophy winners, and are ranked the top team in the world. They have now won bronze in four of the six Olympics since 1992, claiming gold in Athens and silver in 1992.
Britain have not won an Olympic medal since 1988.
The two sides looked well matched until the 17th minute when Dwyer, five-times world player of the year, set up Simon Orchard at the top of the D and he slammed the ball home. Britain keeper James Fair got his hand to the ball but could not stop it.
Australia used the momentum to put the hosts under heavy pressure, missing a few good chances to extend the lead, but it was Britain who equalized from their only penalty corner of the half just six minutes before the break.
Ashley Jackson slipped the ball to Iain Lewers who put it past the keeper for a 1-1 halftime score.
But Australia came back strongly and went ahead again when Dwyer converted the second rebound from a corner.
Nine minutes later, they destroyed any British hopes of bronze when Fair saved Dwyer's shot at goal but could only watch Kieran Govers tapping in a volley rebound.
"If you had said seven years ago when we were awarded the Olympics and were ranked 11th in the world, ...that we might come fourth, that would've felt brilliant. The truth is we've got a bad taste in our mouth from the semi-final," said Britain coach Jason Lee.
"We had aspirations and dreams of a medal, in contrast with Australia, where everyone had expectations they would be in the big game today. I still class them as the world's top team."
Germany will defend their Olympic title against the Netherlands, whose women have already taken gold, at 3.00 p.m. EDT.
(Reporting by Annika Breidthardt and William James, editing by Ed Osmond)