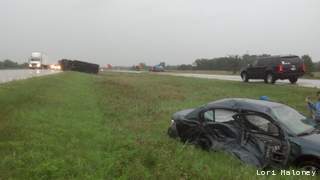 TOWN OF MOSEL, WI (WTAQ) - Traffic is now moving on Interstate 43 in Manitowoc and Sheboygan counties following a two vehicle crash.
The Sheboygan County Sheriff's Department says it happened north of Playbird Road just before 9 a.m. A single-axle truck driving northbound crossed into the median and tipped over.
Another vehicle was involved in the crash. One person suffered a minor injury and was taken to the hospital.
The truck, owned by Sheboygan Paint, tipped over, spilling part of its load of paint barrels. Hazmat crews were called in, in case the paint was hazardous, but company officials told officers the paint was water-based, non-toxic and non-flammable. Several drums of hazardous paint were on board but did not spill.
I-43 southbound was closed at County XX in Manitowoc County and traffic was detoured to Highway 42 for several hours. One lane of I-43 northbound was also closed initially.