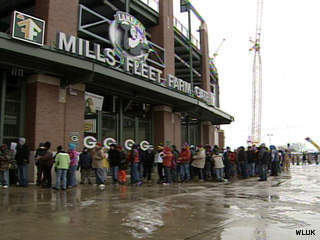 GREEN BAY, WI (WTAQ) - A line as far as the eye could see waiting outside Lambeau Field Friday morning as hundreds of people were ready to shovel.
The Green Bay Packers offered to pay up to 450 people $10 an hour to clear out the seating area after Thursday's snowfall.
Packers officials say it was the largest turnout ever for a shoveling event. The team had to turn away about 750 people, after getting the maximum level.
Many folks say they wanted to earn some money and help out the team.
The Packers face the New York Giants in an NFC Divisional playoff game at Lambeau Field Sunday. Kickoff is set for 3:30 p.m., with Packers Gameday starting at 1 p.m. on 97.5/1360 News Talk WTAQ.