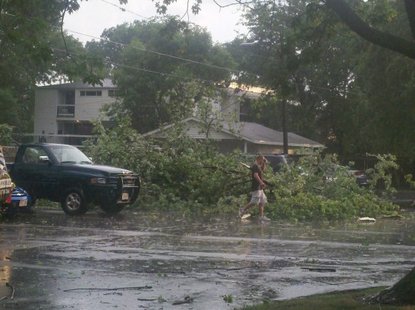 OSHKOSH, WI (WTAQ) - One of the hardest hit places during Monday night's strong storms was the Oshkosh area.
Residents are dealing with power outages as they clean up after the storm.
"We were having a movie night and the kids started screaming, the power went out," Miranda Fergelic, whose family lost power, told FOX 11. Much of her neighborhood dealt with the same fate.
Crews worked to repair powerlines taken down by debris.
Fergelic said the storm left behind a mess. "Trees down, a lot of toys everywhere, not a lot of people cleaned up before the storm," said Fergelic.
Assistant Fire Chief Jeff Schettle told FOX 11, despite the intensity, it could have been worse. "Not any major damage in Oshkosh that we know of right now," said Schettle.
According to Schettle, the storm lasted about an hour, bringing minor flooding and damage. He said the fire department responded to only a few issues.
"Seven or eight downed power lines, after that, the downed power lines we had three or four false fire alarms and that was pretty much it," said Schettle.
Schettle said no one was hurt, so the city was lucky, even if residents will be cleaning up the mess over the next day or two.