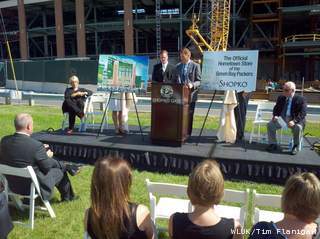 GREEN BAY, WI (WTAQ) - The Green Bay Packers have officially announced the sponsor of Lambeau Field's new south gate.
Ashwaubenon-based retailer Shopko will enhance their long-time partnership with the Packers and Lambeau Field for the gate, which will be called the Shopko Gate, when it opens for the 2013 season.
"We are very pleased to have our longtime partner Shopko enhance their relationship with the Packers through the Shopko Gate," said Packers President/CEO Mark Murphy. "We share a lot of history here in the Green Bay area, along with a deep commitment to the community. Shopko has been a great teammate to the Packers and we look forward to having thousands of fans enter Lambeau Field on game day and for other events through this exciting new gate."
The Shopko Gate will be part of what the Packers are calling a "south end" neighborhood of Lambeau Field
"As the Packers expand the stadium to welcome more fans, Shopko is also expanding our brand into more communities to serve more customers," said Paul Jones, Shopko President and CEO. "The partnership between the Packers and Shopko, both companies founded on Midwest values, is a natural fit. Shopko is proud to be the 'Official Hometown Store of the Green Bay Packers.'"