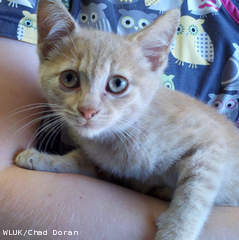 NEENAH, WI (WTAQ) - Police are looking for people who apparently were throwing kittens out of a moving vehicle this past weekend.
Neenah PD says the vehicle, a black Jeep Wrangler with a soft convertible top, was seen around 7:30 a.m. Saturday headed south on Commercial Street near Alexander Drive.
The kittens were being thrown out of the passenger side window.
One kitten was found after it fell down a storm sewer. Police and firefighters, along with help from a citizen, pulled it out and took it to an animal shelter.
Anyone with information is asked to call Neenah police at (920) 886-6000. Anonymous tips can be left with Crime Stoppers at (920) 236-8477 or by texting IGOTYA and the tip to 274637.